06.06.2017 | Übersichten | Ausgabe 3/2018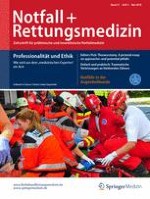 Thoracostomy
A pictorial essay on approaches and potential pitfalls
Zeitschrift:
Autoren:

M.D. Assoc. Prof. Dr. habil. N. Hammer, D. Häske, A. Höch, C. Babian, B. Hossfeld, P. Voigt, D. Winkler, M. Bernhard
Abstract
Background
Thoracic trauma with consecutive pneumothorax or haematothorax can be accompanied by progressive respiratory failure. If untreated, this poses the risk of developing a life-threatening tension pneumothorax and consecutive death. Needle decompression and thoracostomy with/without chest tube insertion are therefore considered being among the final life-saving measures.
Objectives
The aim of the given work is to present the anatomical background of thoracostomy and needle decompression, and to provide an image-based compilation of the procedure and potential pitfalls, based on the new German level 3 guideline for the management of severely injured patients.
Materials and methods
Literature review, clinical intervention in cadaveric specimens, subsequent dissection and imaging.
Results and conclusions
Chest tube insertions are a suitable and effective but technically challenging procedure to treat a pneumothorax or haematothorax. Needle decompression is a simple but temporary procedure and is not considered as a measure for definite care. In the given work, the two most commonly used techniques for thoracostomy for chest tube insertion or needle decompression, namely Monaldi and Bülau, are demonstrated using radiological images, anatomical preparations and graphical illustrations. This guide illustrates thoracic and abdominal surface anatomy and shows the corresponding internal topography according to different levels, as well as the consequences of potential misplacements.