01.12.2015 | ERC Leitlinien | Ausgabe 8/2015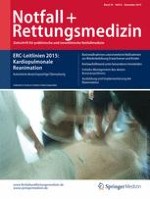 Ausbildung und Implementierung der Reanimation
Kapitel 10 der Leitlinien zur Reanimation 2015 des European Resuscitation Council
Zeitschrift:
Autoren:

R. Greif, A.S. Lockey, P. Conaghan, A. Lippert, W. De Vries, K.G. Monsieurs
Wichtige Hinweise
zu diesem Kapitel haben beigetragen
John H.W. Ballance: Woolhope, Hereforddhire, UK
Alessandro Barelli: Teaching Hospital Agostino Gemelli, Rome, Italy
Dominique Biarent: Paediatric Intensive Care and Emergency Department, Hôpital Universitaire des Enfants, Université Libre de Bruxelles, Belgium
Leo Bossaert: University of Antwerp, Antwerp, Belgium
Maaret Castrén: Department of Emergency Medicine and Services, Helsinki University Hospital and Helsinki University, Finland
Anthony J. Handley: Hillcrest Cottage, Hadstock, Cambridge, UK
Carsten Lott: Department of Anesthesiology, University Medical Center, Johannes Gutenberg-University, Mainz, Germany
Ian Maconochie: Paediatric Emergency Medicine, Imperial College Healthcare NHS Trust and BRC Imperial NIHR Grant holder, Imperial College London, UK
Jerry P. Nolan: Department of Anaesthesia and Intensive Care Medicine, Royal United Hospital, Bath UK and Bristol University, UK
Gavin Perkins: Warwick Medical School, University of Warwick, Coventry, UK, Critical Care Unit, Heart of England NHS Foundation Trust, Birmingham, UK
Violetta Raffay: Municipal Institute for Emergency Medicine Novi Sad, Novi Sad, Serbia
Charlotte Ringsted: Faculty of Health, Aarhus University, Denmark
Jasmeet Soar: Anaesthesia and Intensive Care Medicine, Southmead Hospital, Bristol, UK
Joachim Schlieber: Trauma Hospital Salzburg, Austria
Patrick Van de Voorde University Hospital and University Ghent, Belgium; Federal Department Health, Belgium:
Jonathan Wyllie: James Cook University Hospital, Middlesbrough, UK
David Zideman; Imperial College Healthcare NHS Trust, London, UK
Die Leitlinienverfasser bedanken sich bei Sam Richmond, der kürzlich verstarb, für seinen bedeutenden Beitrag zu diesem Kapitel.
Ohne Zusammenfassung