01.12.2015 | ERC Leitlinien | Ausgabe 8/2015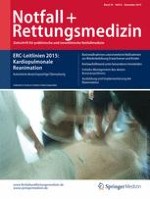 Kurzdarstellung
Kapitel 1 der Leitlinien zur Reanimation 2015 des European Resuscitation Council
Zeitschrift:
Autoren:

K.G. Monsieurs, J.P. Nolan, L.L. Bossaert, R. Greif, I.K. Maconochie, N.I. Nikolaou, G.D. Perkins, J. Soar, A. Truhlář, J. Wyllie, D.A. Zideman, on behalf of the ERC Guidelines 2015 Writing Group
Wichtige Hinweise
ERC Guidelines 2015 Writing Group:
Gamal Eldin Abbas Khalifa, Annette Alfonzo, Hans-Richard Arntz, Helen Askitopoulou, Abdelouahab Bellou, Farzin Beygui, Dominique Biarent, Robert Bingham, Joost JLM Bierens, Bernd W Böttiger, Leo L Bossaert, Guttorm Brattebø, Hermann Brugger, Jos Bruinenberg, Alain Cariou, Pierre Carli, Pascal Cassan, Maaret Castrén, Athanasios F Chalkias, Patricia Conaghan, Charles D. Deakin, Emmy DJ De Buck, Joel Dunning, Wiebe De Vries, Thomas R Evans, Christoph Eich, Jan-Thorsten Gräsner, Robert Greif, Christina M Hafner, Anthony J Handley, Kirstie L Haywood, Silvija Hunyadi-Antičević, Rudolph W. Koster, Anne Lippert, David J Lockey, Andrew S Lockey Jesús López-Herce Carsten Lott, Ian K Maconochie Spyros D. Mentzelopoulos, Daniel Meyran, Koenraad G. Monsieurs, Nikolaos I Nikolaou, Jerry P Nolan, Theresa Olasveengen Peter Paal, Tommaso Pellis, Gavin D Perkins, Thomas Rajka, Violetta I Raffay, Giuseppe Ristagno, Antonio Rodríguez-Núñez, Charles Christoph Roehr, Mario Rüdiger, Claudio Sandroni, Susanne Schunder-Tatzber, Eunice M Singletary, Markus B. Skrifvars Gary B Smith, Michael A Smyth, Jasmeet Soar, Karl-Christian Thies, Daniele Trevisanuto, Anatolij Truhlář, Philippe G Vandekerckhove, Patrick Van de Voorde, Kjetil Sunde, Berndt Urlesberger, Volker Wenzel, Jonathan Wyllie, Theodoros T Xanthos, David A Zideman.
Die Literaturhinweise beziehen sich auf das Literaturverzeichnis im Internet, Sie finden sie unter
www.grc-org.de
.
Ohne Zusammenfassung