02.05.2019 | Original Contribution | Ausgabe 7/2019 Open Access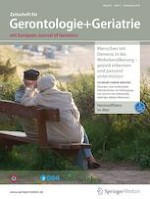 Sarcopenia and osteoporosis are interrelated in geriatric inpatients
Zeitschrift:
Autoren:

J. Reiss, B. Iglseder, R. Alzner, B. Mayr-Pirker, C. Pirich, H. Kässmann, M. Kreutzer, P. Dovjak, R. Reiter
Abstract
Background
Sarcopenia and osteoporosis share an underlying pathology and reinforce each other in terms of negative outcomes.
Objective
To evaluate the extent of concomitance of sarcopenia as defined by the European Working Group on Sarcopenia in Older People (EWGSOP) and osteoporosis as defined by the World Health Organization (WHO) in geriatric inpatients and their relationship to nutritional and functional status.
Material and methods
A cross-sectional analysis of geriatric inpatients from the sarcopenia in geriatric elderly (SAGE) study. Measurements included dual X‑ray absorptiometry for bone mineral density and appendicular muscle mass; gait speed and hand grip strength, the Barthel index, body mass index (BMI) and the mini nutritional assessment short form (MNA-SF).
Results
Of the 148 patients recruited for SAGE, 141 (84 women, 57 men; mean age 80.6 ± 5.5 years) had sufficient data to be included in this ancillary investigation: 22/141 (15.6%) were only osteoporotic, 19/141 (13.5%) were only sarcopenic and 20/141 (14.2%) osteosarcopenic (i.e. both sarcopenia and osteoporosis). The prevalence of osteoporosis was higher in sarcopenic than in non-sarcopenic individuals (51.3% vs. 21.6%,
p
 < 0.001). Sarcopenic, osteoporotic and osteosarcopenic subjects had a lower BMI, MNA-SF, handgrip and gait speed (
p
 < 0.05) than the reference group (those neither osteoporotic nor sarcopenic,
n
 = 80). The Barthel index was lower for sarcopenic and osteosarcopenic (
p
 < 0.05) but not for osteoporotic (
p
 = 0.07) subjects. The BMI and MNA-SF were lower in osteosarcopenia compared to sarcopenia or osteoporosis alone (
p
 < 0.05) while there were no differences in functional criteria.
Conclusion
Osteoporosis and sarcopenia are linked to nutritional deficits and reduced function in geriatric inpatients. Co-occurrence (osteosarcopenia) is common and associated with a higher degree of malnutrition than osteoporosis or sarcopenia alone.