01.08.2016 | Leitthema | Ausgabe 5/2016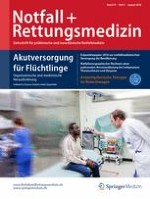 Erstuntersuchung und Screening von Migranten
Was ist sinnvoll, was ist evidenzbasiert?
Zeitschrift:
Autoren:

C. Rauscher, Prof. Dr. B. Salzberger
Wichtige Hinweise
Redaktion
T. Nicolai, München
Zusammenfassung
Die medizinische Versorgung von Migranten und Flüchtlingen ist mit der hohen Zahl von Migranten der letzten Monate ein dringendes Problem im deutschen Gesundheitssystem geworden. Die Versorgung besteht in der Behandlung akuter Gesundheitsprobleme bei der Ankunft, aber auch in der Therapie von übertragbaren und nichtübertragbaren chronischen Erkrankungen sowie langfristig in der Integration in das lokale Gesundheitssystem. Die Gesundheitsprobleme bei Migranten sind vielfältig. Aufgrund der Besonderheiten der Herkunftsländer sind sie uns häufig wenig vertraut. Dies macht deutlich, dass für alle Beteiligten Versorgungsleitlinien sinnvoll wären. In einer Literatur- und Internetrecherche wurden insgesamt 47 Leitlinien identifiziert, von denen zwei besonders ausführlich und klar begründet sind: zum einen die Publikation der Centers for Disease Control and Prevention, USA, zum anderen die Veröffentlichung der Canadian Collaboration for Refugee and Immigrant Health. Eine vergleichende Analyse dieser Vorschläge könnte der Auftakt für die Formulierung einer evidenzbasierten europäischen Leitlinie sein.