29.10.2019 | Themenschwerpunkt | Sonderheft 4/2019 Open Access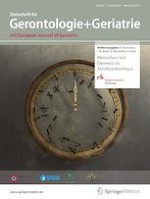 A pilot observational study to analyze (in)activity and reasons for sedentary behavior of cognitively impaired geriatric acute inpatients
Zeitschrift:
Autoren:

Nacera Belala, Carolin Maier, Patrick Heldmann, Michael Schwenk, Clemens Becker
Abstract
Background and objective
Mobility decline and worsening of the cognitive status are all too often the result of acute hospital treatment in older patients. This is particularly pronounced in patients with pre-existing cognitive impairment. This study strived to analyze the routines of geriatric acute care and identify reasons and triggers for sedentary behavior during acute hospitalization of cognitively impaired inpatients.
Methods and patients
A sample of 20 moderately cognitively impaired geriatric inpatients (average age 84 years) were recruited on an acute care ward. Information on persons attending the patient, daytime, location, context, patient's activity behavior and difficulty of action were collected by behavioral mapping over a period of 35 1‑min timeslots and extrapolated to a period of 525 min. Routines were further analyzed via semi-structured interviews with five healthcare professionals (HCP).
Results
Relevant relations between various categorical and ordinal variables, such as patients' activity behavior, persons attending the patient, daytime, location, difficulty of action and contextual factors were found. Extrapolated data showed that patients spent 396.9 min (75%) in their room, 342.0 min (65%) were spent alone and 236.2 min (45%) lying in bed. The time patients spent alone was grossly underestimated by HCP.
Conclusion
Time spent without company, lacking meaningful activities and continuous bedridden periods due to missing demands to leave the room might have led to time spent inactive and alone. These seem to be strong predictors for sedentariness. Routines of acute care should be reorganized to increase physical activity and thereby reduce sedentary behavior of this patient group.