01.10.2021 | Original Contributions | Sonderheft 2/2021 Open Access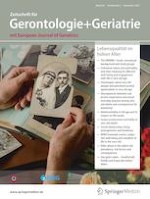 Stereotypes about very old people and perceived societal appreciation in very old age
Zeitschrift:
Autoren:

Marcella Reissmann, Luise Geithner, Anna Storms, Christiane Woopen
Wichtige Hinweise
Supplementary Information
×
Scan QR code & read article online
Background
Second, we describe stereotypes about people in VOA held by stakeholders from key societal areas in North Rhine-Westphalia. Due to their position, they contribute to the normative age climate, and very old people's opportunities within their environment.
Third, the present paper discusses the results of both studies and their possible connections. To our knowledge, this is the first study to use information on the societal values towards very old people and very old people's perceived appreciation by society to complement each other as an example of the relation between external standards and individual life results, according to the CHAPO model.
Material and methods
This mixed methods study used data from the survey "Quality of Life and Well-Being of the Very Old in North Rhine-Westphalia (NRW80+)". Following a parallel design [
21
], quantitative and qualitative data were first analyzed independently. Subsequently, results were juxtaposed for comparison and for an extended picture of the potential connections between the societal appreciation perceived by people in VOA, and societal stereotypes about people in VOA.
Quantitative study
Quantitative analyses used representative data of people aged 80 years and older residing in Germany's most populated federal state of North Rhine-Westphalia (
n
 = 1863). The sample covers persons living in both private and institutional settings. To allow for valid cross-group comparisons, men and those belonging to older age groups (85–89 years, 90+ years) have been oversampled. A total of 176 interviews were conducted with proxy informants when target persons were unable to participate themselves due to severe health issues. For detailed information on the study design and sample, see [
16
].
Independent variables.
The
number of treated health conditions
was measured applying an extended version of the Self-administered Comorbidity Questionnaire [
40
], which presented participants with a list of 19 medical conditions and asked them whether they were currently being treated for them.
Cognitive status
was measured applying the DemTect [
19
] in target persons, and the Global Deterioration Scale [
36
] in proxy interviews. Based on respondents' last occupation,
social status
was coded according to Ganzeboom [
12
] with values ranging from 16 (e.g., cleaning staff) to 90 (e.g., judges). Information on further independent variables can be found in the electronic supplement (appendix A).
Dependent variables.
Two questions referring to discrete dimensions of PSA were used: "Do you feel needed by society?" and "Do you feel treated as a burden to society, e.g., due to physical impairments?" Response options were given as a scale from 1 = strongly disagree to 4 = strongly agree. Respondents were instructed to answer these questions based on their perception of the general societal behavior towards very old people instead of that of their closer social environment.
Statistical analyses.
First, we calculated descriptive statistics of all variables. χ 2-tests (for categorical variables) and Kruskal-Wallis tests (for continuous variables) were used to examine differences in PSA by independent variables. Linear regression models were conducted to predict the two dimensions of PSA by independent variables. All analyses were performed with weighted data by use of IBM SPSS software version 27 (IBM Corp., Armonk, NY, USA).
Multiple imputation.
Full information on missing values is given in the electronic supplement (appendix B). As the share of missing values in cognition was 16.8%, the multiple imputation function of SPSS 27 was used to generate 5 imputed datasets in a linear procedure using all the abovedescribed variables.
Qualitative study
Data on stereotypes about people in VOA were collected in semi-structured interviews. Stakeholders (
n
 = 22) holding executive positions in key societal areas were interviewed. To capture the perspectives of an extensive range of societal stakeholders, representatives of different areas were sampled. They worked in the fields of:
politics (

n

 = 5): national

(pol-nat)

and federal state level

(pol-fed)

mobility management (

n

 = 1)

(mobil)

media (

n

 = 2): public

(med-pub)

and private transmitters

(med-priv)

senior citizen interest groups (

n

 = 2)

(intgr)

senior citizen community services (

n

 = 4): community foundations

(serv-comm)

and umbrella organizations

(serv-umb)

healthcare provision (

n

 = 4): service providers

(hcprov-serv)

and instructors

(hcprov-instr)

healthcare regulation (

n

 = 4): statutory

(hcreg-stat)

and private health insurances

(hcreg-priv)

, medical review board of the statutory health insurance funds

(hcreg-medrev)

, Medical Association

(hcreg-ma)
Interviews lasted between 60 and 115 min. They were guided by two sets of questions referring to interviewees' contact with people in VOA in their everyday work as well as their perceptions of people in VOA (see appendix C in the electronic supplement).
1
All interviews were recorded and fully transcribed (except for one due to the interviewee's consent to written documentation of the interview only).
The coding procedure followed methods of qualitative content analysis [
22
]. Inductive coding was carried out by four investigators independently supported by the MAXQDA Analytics Pro 2018 software (VERBI, Berlin, Germany). Codes were revisited and revised within the team of investigators applying criteria of appropriateness and clear distinction of codes. In this way, a consensual category system was developed. Based on this system, each interview was first analyzed individually. This was followed by a generalizing analysis [
23
] to look beyond the single cases and develop more general conclusions: Similarities and disparities between interviews were identified to gain an impression of the positions that seem typical for some or all interviewees. These general trends were interpreted with reference to the respective single cases.
Results
Quantitative analysis
Appendix D in the electronic supplement shows descriptive sample characteristics and bivariate analyses. Of the total sample 59.9% felt rather not or not at all
needed by society
and 13.8% felt rather or strongly
treated as a burden to society
. These feelings differed significantly by nearly all independent variables.
Table
1
shows results of linear regressions. They confirm that a stronger feeling of being needed by society was predicted by younger age and better cognitive health but even more so by a higher frequency of given instrumental and emotional support, club or organization membership, and volunteering. Surprisingly, given financial support and family caregiving had negative effects on the feeling of being needed by society. The feeling of being treated as a burden to society was primarily predicted by health-related variables: individuals with more treated health conditions, in full in-patient care, and dependent on care felt more treated like a burden. Club or organization membership and given instrumental support had a favorable impact, while a higher frequency of given emotional support was related to a higher feeling of being treated as a burden.
Table 1
Linear regression models predicting dimensions of perceived societal appreciation (
n
 = 1863)
| | Feeling needed by society | Feeling treated as a burden to society |
| --- | --- | --- |
| | ® (SE) a | ® (SE) a |
| Constant | 3.0 (0.55)*** | 1.89 (0.46)*** |
| Age | −0.06 (0.01)* | −0.04 (0.01) |
| Gender | 0.04 (0.05) | −0.02 (0.04) |
| Number of treated health conditions | −0.04 (0.20) | 0.22 (0.16)*** |
| Cognition | −0.09 (0.04)*** | 0.05 (0.04) |
| Care dependency | −0.05 (0.07) | 0.09 (0.05)** |
| Full in-patient care | −0.04 (0.09) | 0.12 (0.07)*** |
| Social status | −0.02 (0.00) | 0.00 (0.00) |
| Parenthood | 0.03 (0.07) | −0.01 (0.06) |
| Club/organization membership | 0.13 (0.06)*** | −0.08 (0.05)** |
| Volunteering | 0.13 (0.08)*** | −0.03 (0.06) |
| Further education | 0.02 (0.05) | 0.00 (0.07) |
| Family caregiving | −0.05 (0.09)* | 0.01 (0.08) |
| Financial support | −0.06 (0.05)** | 0.00 (0.04) |
| Emotional support | 0.09 (0.02)*** | 0.07 (0.02)** |
| Instrumental support | 0.18 (0.02)*** | −0.07 (0.02)* |
| | 0.192*** | 0.115*** |
Qualitative analysis
Based on the categories derived from the qualitative interviews, four overarching themes of stereotypes about people in VOA emerged. Within them we found similar, but also differing perceptions. Differences occurred mainly between two groups of stakeholders, with one group comprising those whose profession primarily included direct contact with (very) old people (G1: senior citizen community services, health care providers, senior citizen interest groups) and a second group consisting of those whose work did not (G2: politics, mobility management, media, healthcare regulation).
Losses
A wealth of perceptions of very old people expressed by interviewees revolve around losses in different areas of life.
Health and independence.
All stakeholders refer to people in VOA as a fragile group characterized by multimorbidity, cognitive decline, and care dependency:
"generally, they all have some kind of impairments" (hcprov-serv).
These are expected to determine very old people's lives: After an incisive event leading to care dependency,
"nothing is like it was before" (pol-fed)
; illness, pain, or dementia
"shapes everyday life. It shapes the whole day" (hcprov-serv)
.
Social contacts.
As many very old people had to witness the death of peers,
"they lost so many people on the way" (intgr)
, they are seen as restricted in their social life and at risk of isolation.
Societal recognition.
Stakeholders regard people in VOA to be little-noticed or even ignored by society:
"We don't know about [them] because we look away" (serv-comm), "they don't have a voice" (mobil)
.
Financial security.
Stakeholders mention the threat of old-age poverty, which they consider particularly high for very old women due to their limited opportunities to receive an extensive education and to pursue a paid profession in the past.
Due to losses in health or functionality, interviewees from G2 think of very old people as imposing a burden on their families in the sense of healthcare costs, informal care, or the difficult decision regarding potential institutionalization. On a societal level, they see challenges arising due to very old people's lack of cognitive flexibility to adapt to changing societal perspectives. Furthermore, they express worries about the national economy:
"Economically, it's of course highly problematic, because we have too few young ones who can pay for the very old one [s' healthcare costs]" (pol-nat)
. They also draw on economic reasons when speaking about the lack of very old people's societal inclusion: A stakeholder from mobility management refers to them as a group of customers that is
"unattractive"
to design specific services for as the very old will not use such services
"sustainably".
Stakeholders from media argue that showing older people or addressing age-relevant themes on television is something
"you can't allow yourself" (med-pub),
especially as private transmitters, as younger audiences are the
"currency" (med-priv)
in the advertising industry.
Interviewees from G1, in contrast, are aware that loss-related associations fail to represent the overall very old population:
"One cannot say that someone, just because they are 80, suffers from dementia" (hcprov-serv)
. Yet, they perceive very old people as threatened by age-discrimination due to such misconceptions. They deplore very old people being
"pushed aside" (intgr)
by arbitrary age limits, for instance, in (voluntary) work or empirical research. Moreover, they protest that care-dependent persons are too often
"shunted"
into a nursing home and then
"left alone
"
(serv-comm)
by their families.
Experiential richness
All stakeholders are convinced that people in VOA possess a great wealth of experiences. Besides huge general, historical, and professional knowledge, very old people are perceived to have developed specific skills and strategies by surviving times of war, escape, and reconstruction. They are characterized by stamina as well as abilities to manage with little and adapt to losses. There is agreement that drawing on such resources, people in VOA take on responsibilities within society and provide valuable support to younger generations. Nevertheless, stakeholders from G1 view very old people's resources as relevant primarily for themselves and their personal development:
"They have come so far (...), they have everything within themselves"
(
serv-comm)
. They explicitly point to resources also in those with health restrictions: Even persons with dementia are able to experience individual achievements and
"true inner happiness" (serv-comm),
and because of their specific view of life, they
"show what's the here and now" (serv-comm)
. Stakeholders from G2, in contrast, more often speak of
"a very big wealth of experiences that can be passed on" (mobil),
and link remaining resources to staying engaged.
Otherness
Another broad conception of people in VOA is that they in some sense differ from the rest of society. Stakeholders from G1 attribute this to changing perspectives of life: in old age,
"life (...) in its entirety may be construed differently"
(
hcprov-serv
). This includes a reinvention of one's life and a stronger concentration on oneself as a result of biographical disruptions, such as the death of a spouse. From the outside, they find this age-related change in perspectives is often misconceived as social withdrawal. Stakeholders from politics and media, in contrast, rather refer to very old people's past socialization, which leads them to believe that people in VOA hold values, attitudes, and an image of society (e.g., the role of women) that are not consistent with modern perceptions. For example, some stakeholders of G2 think of people in VOA as
"completely refusing (...) to even try" (med-priv)
using modern technologies. In contrast, stakeholders from G1, but also one stakeholder from healthcare regulation, stress that by not using digital technologies, people in VOA preserve qualities such as patience that younger generations are losing. They see very old people in a dilemma between societal demands to use modern technologies in order
"not to be left behind"
(
intgr
) and having no intrinsic motivation to do so.
Heterogeneity
Although people in VOA are associated with a number of specific characteristics as presented in the previous sections, stakeholders from G1, and one stakeholder from politics describe them as a very heterogeneous population. This is attributed, on the one hand, to markedly different experiences and life chances between cohorts (e.g., those born before, during, or after World War II). On the other hand, interindividual differences do not disappear
"just because it was one's birthday" (hcprov-serv)
:
"A person does not turn into another one just because of old age" (pol-fed)
. Basically, people in VOA are viewed as equally heterogeneous as younger groups.
Discussion
The views of the latter group of stakeholders mirror the relevance of physical and functional health and an engaged lifestyle to PSA found in our quantitative study. There are several pathways through which this correspondence might come about.
Practical conclusion
Stereotypes about very old people are relevant to individual quality of life in very old age.

Stereotypes need to be reduced, e.g., through educational initiatives at schools, intergenerational or community-based mentorship programs, realistic portrayals of older people in the media, or by installing an official political position counteracting them.

The public should be sensitized to the manifestations and consequences of stereotypes and encouraged to interfere when witnessing them.

Older individuals should be educated about mechanisms of stereotype internalization, empowered to protect their self-image, and encouraged to stand out against mistreatment.
Acknowledgements
The project NRW80+ belongs to the Key Research Area "Aging and Demographic Change" (Speaker: Susanne Zank) of the Cologne Center for Ethics, Rights, Economics, and Social Sciences of Health (ceres) which is directed by Christiane Woopen at the University of Cologne. Members of the project board are Christian Rietz, Michael Wagner, Christiane Woopen and Susanne Zank. NRW80+ is funded by the Ministry of Innovation, Science and Research, North Rhine-Westphalia.
Declarations
Conflict of interest
M. Reissmann, L. Geithner, A. Storms and C. Woopen declare that they have no competing interests.
All procedures performed in studies involving human participants or on human tissue were in accordance with the ethical standards of the institutional and/or national research committee and with the 1975 Helsinki declaration and its later amendments or comparable ethical standards. Informed consent was obtained from all individual participants included in the study.
Open Access
This article is licensed under a Creative Commons Attribution 4.0 International License, which permits use, sharing, adaptation, distribution and reproduction in any medium or format, as long as you give appropriate credit to the original author(s) and the source, provide a link to the Creative Commons licence, and indicate if changes were made. The images or other third party material in this article are included in the article's Creative Commons licence, unless indicated otherwise in a credit line to the material. If material is not included in the article's Creative Commons licence and your intended use is not permitted by statutory regulation or exceeds the permitted use, you will need to obtain permission directly from the copyright holder. To view a copy of this licence, visit
http://​creativecommons.​org/​licenses/​by/​4.​0/​
.
Footnotes
1
To avoid confoundation with interviewees' solely private experiences with older people, the guiding questions repeatedly addressed them as representatives of their professional position, and referred to their experiences with (very) old people within their professional environment.
2
As described in the methods section, the duration of interviews varied between 60 and 115 min. There was, however, no systematic difference in duration of interviews between G1 and G2 (95%-CI = −8.98–27.81, t(20) = 1.07,
p
 = 0.298). More differentiated or in-depth answers were thus not a result of longer interviews.