08.10.2021 | Original Contributions | Sonderheft 2/2021 Open Access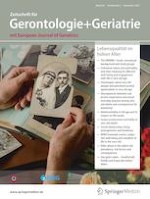 Discrepancies between subjective importance and actual everyday practice among very old adults and the consequences for autonomy
Zeitschrift:
Autoren:

Luise Geithner, Michael Wagner
Wichtige Hinweise
Supplementary Information
×
Scan QR code & read article online
Abstract
Background
An individual's everyday practice in very old age is based on stable dispositions and on the living conditions associated with the person's stage of life. Age-associated changes in living conditions can cause discrepancies between the person's dispositions and actual everyday practice that have consequences for the quality of life.
Objective
The aim of this paper is to look more closely at such discrepancies and their associations with living conditions in very old age (long-term care needs, multimorbidity, care tasks) as well as with the feeling of autonomy as an aspect of quality of life.
Methods
A cross-sectional analysis was conducted using data from the first wave of the NRW80+-study on the quality of life of people aged 80 years and over. Data on the subjective importance of five areas of everyday practice and on the frequency of translating these dispositions into practice were used. The analysis focuses on the occurrence of large discrepancies that arise if the subjective importance of an everyday practice deviates considerably from the frequency of performing it.
Results
Among the very old population surveyed, solitary activities are considered the most important, and they are carried out most often. Multimorbidity, long-term care needs, and private care responsibilities are significantly associated with the experience of large discrepancies. Finally, very old adults with large discrepancies report feelings of reduced autonomy.
Conclusion
These initial results show that age-associated changes in living conditions can be accompanied by difficulties for very old adults to put their dispositions into practice. Attention should be paid to such discrepancies to avoid negative consequences for quality of life.