01.07.2016 | Originalien | Ausgabe 5/2016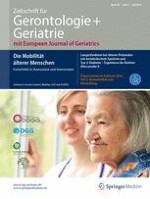 Hierarchical Assessment of Balance and Mobility
Deutsche Übersetzung und interkulturelle Adaptation
Zeitschrift:
Autoren:

Tobias Braun, Alina Rieckmann, Christian Grüneberg, Detlef Marks, Christian Thiel
Zusammenfassung
Hintergrund
Das Hierarchical Assessment of Balance and Mobility (HABAM) ist ein international etablierter klinischer Mobilitätstest mit guten psychometrischen Eigenschaften zur einfachen Erfassung und zur Verlaufsdarstellung der Mobilität geriatrischer Patienten. Ziele der vorliegenden Studie waren die deutsche Übersetzung und die interkulturelle Adaptation der englischen Originalversion des HABAM sowie eine erste Einschätzung der Praktikabilität und Konstruktvalidität.
Material und Methoden
Das HABAM wurde, internationalen Leitlinien folgend, ins Deutsche übersetzt. Eine präfinale Testversion wurde in 2 geriatrischen Kliniken über einen Zeitraum von 5 Wochen von Physiotherapeuten klinisch erprobt. Zur finalen Überarbeitung des HABAM wurden in strukturierter Weise vertiefte Rückmeldungen von den 7 Therapeuten eingeholt, die das HABAM am häufigsten eingesetzt hatten.
Ergebnisse
Das HABAM wurde von 18 Therapeuten bei 47 älteren Patienten in der Eintrittsuntersuchung eingesetzt. Es zeigten sich eine gute Verständlichkeit der übersetzten Instruktionen und Items, aber Probleme bei der Durchführung und Dokumentation. Entsprechende Modifikationen führten zur finalen deutschen HABAM-Version. Die HABAM-Erhebungen dauerten bei 85 % der Patienten ≤ 10 min und korrelierten mit dem Tinetti-Test (rs = 0,71) und dem Barthel-Index (rs = 0,68).
Schlussfolgerung
Eine deutsche HABAM-Version steht nun für die klinische Anwendung zur Verfügung. Die Ergebnisse der ersten psychometrischen Prüfung weisen auf eine potenziell gute Praktikabilität und hinreichende Konstruktvalidität hin. Eine ausführliche Überprüfung der Gütekriterien steht aus.