20.02.2017 | Beiträge zum Themenschwerpunkt | Sonderheft 2/2017 Open Access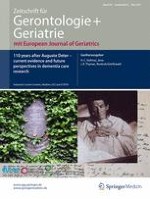 Triple aim improvement for individuals, services and society in dementia care
The DementiaNet collaborative care approach
Zeitschrift:
Autoren:

M. S. Nieuwboer, A. Richters, M. A. van der Marck
Abstract
Background
A redesigning of primary care is required to meet dementia patients' needs. In the Netherlands, current dementia care still falls short in areas including ad hoc collaboration, lack of feedback on quality to professionals involved, and insufficient implementation of established multidisciplinary guidelines.
Objective
DementiaNet is a collaborative care approach, which aims to reduce the burden of the disease on individuals, healthcare services and society via network-based care that encourages collaboration, enhances knowledge and skills and stimulates quality improvement cycles.
Material and methods
DementiaNet was developed to support primary care networks through implementation of five core processes: network-based care, clinical leadership, quality improvement cycles, interprofessional practice-based training and communication support tools, following a stepwise tailor-made approach. Alongside this, a mixed method study was designed to evaluate innovation and effectiveness.
Results
Currently, 18 networks have been formed. These vary in quality of care and strength of collaboration due to local circumstances. Initial activities and goals of each network also vary, ranging from acquaintance to shared care plans. Ongoing research will identify barriers, facilitators and merits of the approach in increasing quality of care and ultimately improving outcomes for patient, carer, health service and society.
Conclusion
Initial results show that clinical practice varies and the DementiaNet approach can lead to quality improvement. Complexity and variety of local care requires complex interventions and evaluation methods that account for this in order to safeguard the value for practice. Strict methodology lessens external validity.