01.09.2009 | Leitthema | Sonderheft 2/2009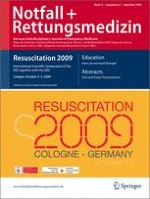 Reanimations-Training: Beginn in der Schule
Ein Ansatz zur Verbesserung des Outcome?
Zeitschrift:
Autor:

Dr. J. Breckwoldt
Abstract
Background
Outcome from out-of-hospital cardiac arrest (OOHCA) is typically limited. Favorable outcome is associated with the incidence and quality of bystander cardiopulmonary resuscitation (CPR) before arrival of emergency medical services (EMS). The whole society will have to undertake substantial educational efforts to improve outcome from OOHCA. School education appears to be especially suitable for this purpose, since children are much more susceptible to the topic than young adults, and CPR could be anchored as a cultural skill at an early stage of lifelong learning.
This article summarizes experience from published projects and extracts principles for implementation.
Methods
On the background of existing literature, considerations are made concerning learning objectives, potential time points for instruction, educational formats, and implementation strategies.
Results
As the most important learning objectives, especially for short learning formats, we identified detection of cardiac arrest, call for help and phone for professional EMS, and thoracic compressions. Ventilation and recovery position should be of minor importance and should not be included in short courses for means of clarity.
A special problem is the availability of qualified instructors. Therefore, differential approaches have to be evaluated according to regional structures.