01.08.2012 | Leitthema | Ausgabe 6/2012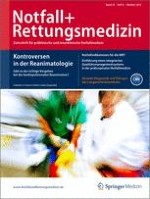 Pro cardiopulmonary resuscitation before defibrillation
Zeitschrift:
Autor:

MD, Ph.D L. Wik
Abstract
Background
The medical dogma has always been to defibrillate a patient discovered to be in ventricular fibrillation (VF), and automatic electric defibrillators (AED) drove this standard into widespread cardiopulmonary resuscitation (CPR) guidelines. Slow AED operation and three stacked shocks added several minutes of not providing blood flow generated by chest compressions. Investigators questioned the practice of providing defibrillation first for patients with longer down time compared to providing chest compressions prior to defibrillation. Human and experimental literature in addition to the interplay between chest compression, defibrillation, and saving lives are discussed.
Materials and methods
The experimental and human literature published regarding chest compression prior to defibrillation is reviewed, the importance of providing chest compressions that generate adequate blood flow to vital organs is highlighted, and the scientific evidence for CPR before defibrillation was performed is explored.
Results
Our review documented that in experimental animal studies of cardiac arrest there is a pooling of blood on the venous side of the heart during VF and that chest compression before defibrillation serve two purposes: (1) high quality chest compressions preserve brain function and (2) perfusing the heart with blood,"primes it" for successful restoration of spontaneous circulation. In clinical practice, the time interval of CPR before defibrillation is unknown. One randomized trial of 3 min of CPR before defibrillation found a significant increase in survival for those who were reached more than 5 min after cardiac arrest, and this was supported by a study based on historic controls. Other studies have not found any benefit but we may speculate that this was due to the quality of the CPR. Delaying defibrillation attempts is meaningless, if quality of chest compressions is suboptimal.
Conclusion
High quality CPR before defibrillation is the treatment of choice for those patients who will not receive a defibrillation attempt shortly after VF started. Regarding survival, it has not been documented that CPR first is inferior to defibrillation first. CPR first is safe and effective for most prehospital cardiac arrest patients.