23.05.2018 | Themenschwerpunkt | Ausgabe 4/2018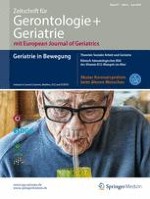 Präoperative Identifikation mithilfe des Identification of Seniors at Risk?
Eignung als alleiniges Screeningtool für stationäre hochaltrige Risikopatienten
Zeitschrift:
Autoren:

Dr. Simone Gurlit, Henriette Möllmann
Zusammenfassung
Hintergrund
Zunehmend werden hochaltrige Patienten auch in Krankenhäusern ohne geriatrische Fachabteilung operativ versorgt. Es gilt, möglichst früh Patienten zu identifizieren, die ein hohes Risikopotenzial für perioperative Komplikationen mitbringen, und ihre Versorgung anzupassen. Der Einsatz des "Identification of Seniors at Risk" (ISAR) zur Identifikation von Risikopatienten, die eine spezialisierte perioperative Betreuung erhalten, soll sowohl in der Notaufnahme als auch zwecks Validierungsversuch in der Elektivchirurgie hinterfragt werden. Die vorgestellte Studie hinterfragt den Einsatz des ISAR zum einen, wie langjährig empfohlen, in der Notaufnahme und zum anderen, als neue Option, zwecks Validierung in der Elektivchirurgie.
Material und Methode
Retrospektiv wurden Daten von 389 Patienten ausgewertet, die routinemäßig im Rahmen der stationären Aufnahme erfasst worden waren. Bei den Patienten wurden präoperativ der ISAR und ggf. als kognitives Screening der Mini-Mental-Status-Test (MMST) durchgeführt, sofern nicht bereits eine vordiagnostizierte Demenz vorlag. Das Delir wurde mithilfe der "Confusion Assessment Method" (CAM) erfasst. Es dienen 88 Patienten der Unfallchirurgie (Notfall UCH) als Beispiel für den Einsatz in der Notfallchirurgie und 93 Patienten der Orthopädie für die Elektivchirurgie (Elektiv ORTHO). Alle Patienten erhielten eine Betreuung durch die Abteilung für perioperative Altersmedizin.
Ergebnisse
Mit ≥2 Punkten laut ISAR gelten 85,2 % der Behandelten der Gruppe Notfall UCH und 48,4 % der Behandelten der Gruppe Elektiv ORTHO als geriatrische Risikopatienten. Unter den ISAR-negativen Patienten fanden sich besonders in der Gruppe Elektiv ORTHO viele Patienten mit präoperativen kognitiven Auffälligkeiten (positiver MMST-Befund oder vordiagnostizierte Demenz). Die Delirraten betrugen 5,7 % in der Gruppe Notfall UCH und 4,3 % in der Gruppe Elektiv ORTHO.
Schlussfolgerung
Der ISAR als Screeningtool erwies sich bei einem "Cut-off"-Wert von 2 als nur bedingt geeignet. Insbesondere wurde die erhoffte Filterfunktion in beiden Gruppen nicht erfüllt.