01.09.2016 | Konzepte – Stellungnahmen – Leitlinien | Ausgabe 6/2016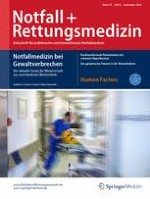 Kids Save Lives – ERC‑Positionspapier zur Schülerausbildung in Wiederbelebung
"Helfende Hände – Training von Kindern ist Training für's Leben"
Zeitschrift:
Autoren:

ML, DEAA, FESC, FERC Univ.-Prof. Dr. med. B. W. Böttiger, L. L. Bossaert, M. Castrén, D. Cimpoesu, M. Georgiou, R. Greif, M. Grünfeld, A. Lockey, C. Lott, I. Maconochie, R. Melieste, K. G. Monsieurs, J. P. Nolan, G. D. Perkins, V. Raffay, J. Schlieber, F. Semeraro, J. Soar, A. Truhlář, P. Van de Voorde, J. Wyllie, S. Wingen, on behalf of the Board of the European Resuscitation Council (ERC)
Wichtige Hinweise
Dies ist eine Übersetzung des Beitrags
Kids Save Lives – ERC position statement on school children education in CPR. "Hands that help – Training children is training for life
" © 2016 Published by Elsevier Ireland Ltd,
dx.​doi.​org/​10.​1016/​j.​resuscitation.​2016.​06.​0050300-9572
durch den Deutschen Rat für Wiederbelebung (GRC).
Ohne Zusammenfassung