26.06.2018 | Leitthema | Ausgabe 2/2019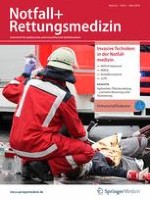 Invasive Notfalltechniken – INTECH Advanced
REBOA, Perikardiozentese und Clamshell-Thorakotomie
Zeitschrift:
Autoren:

N. Schneider, Dr. T. Küßner, F. Weilbacher, M. Göring, S. Mohr, M. Rudolph, E. Popp
Wichtige Hinweise
Redaktion
B. Gliwitzky, Maikammer
E. Popp, Heidelberg
Zusammenfassung
Invasive Notfalltechniken können in bestimmten Situationen lebensrettend sein, sind allerdings selten indiziert, sodass seitens des Rettungsdienst- bzw. Klinikpersonals keine Erfahrung besteht. Entsprechend wird gefordert, diese Maßnahmen in praxisnahen Kurssystemen zu vermitteln und zu trainieren, um sie in der Notfallsituation adäquat anwenden zu können. Beim Heidelberger Kurskonzept INTECH Advanced stehen die invasiven Notfalltechniken "resuscitative endovascular balloon occlusion of the aorta" (REBOA), Perikardiozentese und Clamshell-Thorakotomie im Mittelpunkt. Diese Verfahren haben kürzlich Eingang in die entsprechenden nationalen und internationalen Leitlinien gefunden. Bei der REBOA wird ein Ballonkatheter über die Leistenarterie eingeführt, in der Aorta descendens platziert und dort geblockt. So kann einerseits der proximale Aortendruck erhöht werden, was eine verbesserte Versorgung von Herz, Lunge und Gehirn bedingt. Andererseits lassen sich distal gelegene Blutungen reduzieren bzw. ausschalten. Die sonographiegesteuerte Perikardiozentese dient der Entlastung von hämodynamisch relevanten serösen Perikardtamponaden, um den Patienten zu stabilisieren und die Zeit bis zur operativen Versorgung zu überbrücken. Traumatisch bedingte, blutige Perikardtamponaden sind hingegen eine Domäne der Notfallthorakotomie. Hier stellt die Clamshell-Thorakotomie eine relativ einfach zu erlernende Methode dar, die eine gute Übersicht bietet und eine Vielzahl an Interventionen erlaubt. Im Vordergrund stehen die offene Entlastung einer blutigen Perikardtamponade sowie die manuelle Kompression der Aorta descendens mit den oben genannten Effekten.