01.10.2015 | Leitlinien und Empfehlungen | Ausgabe 6/2015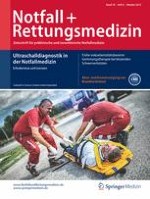 Frühe viskoelastizitätsbasierte Gerinnungstherapie bei blutenden Schwerverletzten
Bericht der Konsensusgruppe über die Konsensuskonferenz 2014 zur Erarbeitung einer S2k-Leitlinie
Zeitschrift:
Autoren:

Prof. Dr. M. Maegele, K. Inaba, S. Rizoli, P. Veigas, J. Callum, R. Davenport, M. Fröhlich, J. Hess, Konsensusgruppe zur Erarbeitung einer viskoelastizitätsbasierten Leitlinie zur frühen Gerinnungstherapie bei blutenden Schwerverletzten
Wichtige Hinweise
Die vorliegende Übersetzung des Beitrags: Inaba K, Rizoli S, Veigas PV et al. (2015) 2014 Consensus Conference on viscoelastic test based transfusion guidelines for early trauma resuscitation: Report of the panel. J Trauma Acute Care Surgery 78:1220-1229 erscheint parallel in den Oktoberausgaben von
Der Anästhesist
und
Notfall + Rettungsmedizin
.
Abkürzungen siehe Ende des Beitrags.
Zusammenfassung
Obwohl es ein stetig wachsendes Interesse am Einsatz viskoelastischer Testverfahren (ROTEM®/TEG®) zur Diagnostik und Therapiesteuerung beim blutenden Schwerverletzten gibt, fehlen bis dato in der Breite akzeptierte Leitlinien, wie diese Verfahren in die klinische Versorgung integriert werden können. Im September 2014 versammelten sich internationale Experten unterschiedlicher und an der Schwerverletztenversorgung beteiligter Fachdisziplinen zu einer zweitägigen Konsensuskonferenz in Philadelphia (USA). Die Expertengruppe war öffentlich und setzte sich zusammen aus Anästhesisten, Unfallchirurgen/Traumatologen, Allgemein-/Abdominalchirurgen, Gefäßchirurgen, Notfall-/Intensivmedizinern, Hämatologen, Transfusionsmedizinern, Labormedizinern sowie Pathobiologen/Pathophysiologen. Neun Fragen in Bezug auf den Einfluss viskoelastischer Testverfahren im Rahmen der frühen Schwerverletztenversorgung wurden im Vorfeld der Konferenz via Konsensus formuliert, literaturtechnisch via Review-Verfahren aufgearbeitet und anschließend im Rahmen der Konferenz im Format standardisierter Vorträge unter Moderation ohne Interessenkonflikt diskutiert. Der frühe Einsatz der Verfahren wurde definiert als Ausgangswert, erhoben innerhalb weniger Minuten nach Schockraumaufnahme, wenn die Ergebnisse der Standardverfahren zur Gerinnungsdiagnostik noch nicht vorliegen. Die Ergebnisse der Konsensuskonferenz wurden in Form eines Berichts zusammengefasst und anschließend im Rahmen eines offenen Forums nochmals abschließend begutachtet. Abgerundet wurde der Prozess durch die Durchführung einer Delphi-Befragung über zwei Runden zur Konsensusfindung innerhalb der Expertengruppe hinsichtlich viskoelastischer Grenzwerte zur Initiierung spezifischer Behandlungen unter Einschluss von Fibrinogen(-Konzentraten), Thrombozytenkonzentraten, Blutplasmaprodukten und Prothrombinkomplexkonzentraten (PPSB). Der vorliegende Bericht fasst die Ergebnisse und Empfehlungen der Konsensuskonferenz zusammen, die nach dem System der Arbeitsgemeinschaft der Wissenschaftlichen Medizinischen Fachgesellschaften (AWMF) unter Berücksichtigung von formaler Konsensusfindung, einschließlich Delphi-Methode, einer S2k-Leitlinie entsprechen.