15.10.2019 | Themenschwerpunkt | Sonderheft 4/2019 Open Access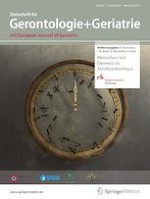 Expectations of nursing personnel and physicians on dementia training
A descriptive survey in general hospitals in Germany and Greece
Zeitschrift:
Autoren:

Julia Schneider, Mara Gkioka, Sotirios Papagiannopoulos, Despina Moraitou, Brigitte Metz, Magdalini Tsolaki, Andreas Kruse, Birgit Teichmann
Wichtige Hinweise
Electronic supplementary material
The authors Julia Schneider and Mara Gkioka contributed equally to the manuscript.
The original online version of this article was revised: Please note the correct tables of the electronic supplementary material.
Abstract
Background
The number of dementia training programs in hospital settings is steadily increasing. The way training sessions are designed influences the way the learning content is implemented in practice. To develop a successful training it is important to meet the needs of the target group; however, not much is known about staff preferences and expectations relevant to future dementia training programs in hospitals in Germany and Greece.
Objective
The aim of this survey was to explore staff training needs relevant to the topic of dementia, in general hospitals in Germany and Greece. This study analyzed the interests of staff members, preferences and expectations with respect to dementia training.
Material and methods
This was a descriptive survey based on a 54-item questionnaire conducted with 61 nursing staff, head nurses and physicians (Germany:
n
 = 25, Greece:
n
 = 36) recruited from 5 hospitals (Germany:
n
 = 3, Greece:
n
 = 2). Parts of the questionnaire explored participants' previous education regarding dementia and their expectations towards future dementia programs.
Results
Although staff attendance in educative programs was high in the last 5 years for both countries, participation in dementia training programs was low (Germany 24%, Greece 5.5%). Additionally, the great majority of participants were willing to be trained in future dementia training programs (Germany 96%, Greece 100%). Employees from both countries expect increased clinical skills as a result of participation in such training programs. In Greece, staff members hope for better handling of people with dementia, while in Germany, concrete practical advice is preferred.
Conclusion
There seems to be a strong willingness to participate in further dementia training programs where not only theoretical knowledge is provided but also practical advice.