28.03.2018 | Reviews | Ausgabe 1/2019 Open Access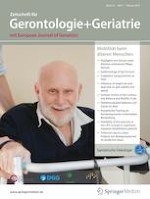 Epidemiology of hip fractures
Systematic literature review of German data and an overview of the international literature
Zeitschrift:
Autoren:

MD Prof. Kilian Rapp, Dr. Gisela Büchele, Prof. Karsten Dreinhöfer, Prof. Benjamin Bücking, Prof. Clemens Becker, Dr. Petra Benzinger
Wichtige Hinweise
Electronic supplementary material
Informationen zu spezifischen Teilaspekten der globalen Hüftfrakturepidemiologie beruhen auf einer selektiven Literatursuche.
Abstract
Background
Hip fractures are regarded as a worldwide epidemic and a major public health concern. Changing risk factors, local differences and temporal trends contribute to the particular epidemiology of hip fractures. This overview gives a comprehensive insight into the epidemiology of hip fractures and reviews where German data have contributed to the literature.
Methods
The review of the epidemiology of hip fractures in Germany is based on a systematic literature search in PubMed. Information about the global epidemiology of hip fractures was provided by a selective literature review focusing on specific aspects of the epidemiology of hip fractures.
Results
Hip fracture rates vary more than 100-fold between different countries. In most high-income countries, a rise in age-standardized hip fracture rates was observed until the 1980s and 1990s and a decrease thereafter. Such a decrease has not been observed for Germany so far. Many factors, diseases and drugs have been found to be associated with hip fractures and there is some evidence that fracture risk in later life is already programmed during fetal life and early childhood. Of the hip fracture burden 50% occur in people with disability and in need of care. In nursing homes approximately 4 fractures can be expected in 100 women per year. In people with intellectual or developmental disabilities comparable risks of hip fracture occur 10–40 years earlier than in the general population. Incidence of disability, institutionalization and death are frequent consequences of hip fractures.
Conclusion
The epidemiology of hip fractures is characterized by a high burden of disease, local differences, temporal trends, well-defined high-risk populations and many established risk factors.