01.09.2009 | Leitthema | Sonderheft 2/2009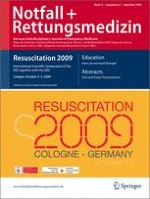 E-Learning bei der Wiederbelebung
Soll man den Ausbilder, den Dummy oder beide abschaffen?
Zeitschrift:
Autoren:

MD, PhD K.G. Monsieurs, A.J. Handley
Abstract
Directed self-learning of CPR is a true challenge, and recent efforts have been made to remove the instructor, the manikin, or both. Microsimulation programmes alone can transfer some knowledge and skills required to deliver CPR, but most participants will not achieve a high degree of proficiency without additional hands-on training on a manikin. Manikins with voice feedback (without an instructor) can transfer skills both for adult and paediatric CPR effectively, but the degree of skill retention has been questioned. They might at least supplement current instructor-based training aimed at professional healthcare providers. DVD-based individual training packages with a simple personal training manikin appear to be effective when compared with traditional instructor-led courses. Their value may well be in cost-effective training of large numbers of rescuers.
Technology is making CPR demonstration and instruction available to the general public anytime and anywhere, potentially reducing the need for formal CPR training in the future. The current trend towards compression-only CPR could mean that widespread self-learning becomes a greater practical proposition.