01.03.2021 | Original Contributions | Ausgabe 2/2021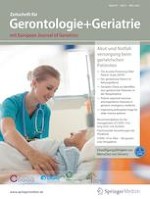 Diagnostic efficacy of bedside ultrasound to detect dehydration in older patients attending an emergency care unit
Zeitschrift:
Autoren:

MD H. Diederich, MD H. Burkhardt
Abstract
Background
The diagnosis of dehydration in older patients remains a challenge because clinical and laboratory signs are unspecific. The use of B‑Mode ultrasound of the inferior vena cava is proposed to aid in the diagnosis but data concerning diagnostic efficacy of bedside ultrasound are lacking.
Methods
In this study 78 patients ≥65 years old referred to the emergency unit of a university hospital and identified as being dehydrated by applying clinical signs were compared with a reference of 121 patients. The diameter of the inferior vena cava (IVC) was assessed by ultrasound while compressing the IVC during an inspiratory maneuver and the minimum and maximum diameter in M‑Mode.
Results
Significant differences were found concerning compressibility, variability of the diameter assessed by M‑Mode and the diameter during an inspiratory maneuver of the IVC (<0.001); however, a receiver operator characteristics (ROC) showed only moderate values for diagnostic efficacy for all these parameters where the best result was found for the inspiratory maneuver (Area under the curve [AUC] = 0.73). To reach a specificity of 0.8 to diagnose dehydration, a cut-off value of ≤0.4 cm for IVC diameter was suitable.
Conclusion
Ultrasound of the IVC can easily be applied in a bedside setting and may be helpful in identifying dehydration in older patients; however, this remains challenging and a synopsis covering clinical and technical data is indispensable.