01.04.2012 | CME Zertifizierte Fortbildung | Ausgabe 3/2012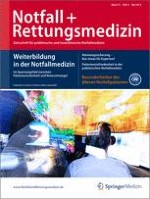 Besonderheiten des älteren Notfallpatienten
Wie können mögliche Fehleinschätzungen präklinisch und in Notaufnahmen vermieden werden?
Zeitschrift:
Autoren:

Dr. K. Singler, H.J. Heppner
Zusammenfassung
Die Anzahl alter Patienten nimmt auch in der Notfallmedizin stetig zu. Hierbei gilt es, Besonderheiten in der Diagnostik und Therapie älterer Patienten zu kennen, um so Fehleinschätzungen vermeiden zu können. Am Fallbeispiel einer 82-jährigen Patientin mit einer Pneumonie werden einige dieser Besonderheiten im Umgang mit betagten Patienten vertieft. Neben der Anamneseerhebung, wird auf bestimmte Symptome wie Dyspnoe und Delir ebenso wie auf diagnostische Besonderheiten wie die Bewertung von Körpertemperatur und Laborwerten eingegangen.
"Geriatrics... is a term... to cover the same field in old age that is covered by the term pediatrics in childhood..." Ignatz Leo Nascher (1863–1944).