01.05.2016 | Leitthema | Ausgabe 3/2016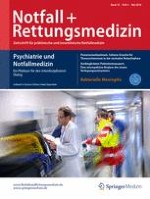 Behavioral emergencies in adults. Assessment and treatment
Zeitschrift:
Autor:

MD Elaine Himadi
Wichtige Hinweise
Redaktion
M. Christ, Nürnberg
F.-G.B. Pajonk, Kloster Schäftlarn
Die komplette deutsche Übersetzung des Beitrags finden Sie auf SpringerLink unter dx.doi.org/10.1007/s10049-016-0159-4.
Abstract
Background
Behavioral emergencies are frequent occurrences in the emergency room setting. They are associated with an increased risk of harm to patients and staff, and specific training is needed to ensure proper assessment and treatment, including verbal de-escalation techniques, medications, and restraints.
Objectives
The objective of this study was to define behavioral emergencies, review causes and assessment of them, and to discuss treatment strategies based on a systematic review of the literature.
Methods
Publications in PubMed from 1980–2015 were accessed using key terms of behavioral emergency, agitation, aggression, psychiatric emergencies, restraints, and delirium.
Results
A review of definition, diagnosis, and treatment of behavioral emergencies is provided. New treatment approaches which include the use of standardized agitation scales to objectively measure agitation, verbal de-escalation techniques, and focusing on oral medications rather than parenteral medications are detailed.
Conclusions
Utilizing verbal de-escalation techniques in the emergency room setting is quick and often prevents further escalation of behaviors. Second generation antipsychotic medications are as effective as first generation antipsychotics without cardiac and extrapyramidal side effects and are to be favored in most cases of acute agitation. Oral medications are preferred to parenteral if possible.
The German full-text version of this article is also available at SpringerLink under dx.doi.org/10.1007/s10049-016-0159-4.