01.08.2012 | Originalien | Ausgabe 6/2012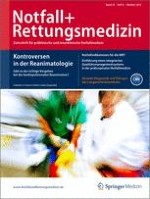 A meta-analysis of early versus late analysis in out-of-hospital cardiac arrest
Does it matter?
Zeitschrift:
Autor:

M.D., M.Sc. Laurie J. Morrison
Abstract
Introduction
A systematic review of all trials (two Australian and one European) randomizing patients in the prehospital setting to a little or a lot of chest compressions prior to first analysis demonstrated no significant benefit for any patient and for a comparison across subgroups based on initial shockable rhythm and an Emergency Medical Services (EMS) response time interval of >5 min versus ≤5 min. The European trial had suggested a significant difference in this comparison which was not supported in the meta-analysis. A large randomized trial from the Resuscitation Outcomes Consortium (ROC) investigators was completed and published after this systematic review and reported a nonsignificant comparison across a different time interval (4 min) which did not allow a direct comparison. The objective of this study was to obtain unpublished data from the recent trial and expand the meta-analysis.
Methods
Data was obtained with permission from the ROC investigators to use unpublished data to compare with the three other trials. The intervention protocol and timing of chest compressions in relation to first analysis and randomization used in the prior clinical trials were confirmed with all authors (Wik, Jacobs, Baker, Stiell). A random effects model was used to conduct the meta-analysis and the endpoint was survival to discharge.
Results
The cumulative odds ratio for all initially shockable patients was 0.92 (0.65, 1.29); for those with an EMS response time interval of ≤ 5 min was 0.86 (0.56, 1.30) and for an EMS response time interval of >5 min was 1.05 (0.46, 2.35).
Conclusion
A cumulative meta-analysis of the four trials for a common endpoint of survival to discharge in the cohort of patients with an initial shockable rhythm and employing the same time intervals of interest shows no significant difference in favor of a short arrival time (≤5 min) or with a long arrival time (>5 min). There is no difference between an early versus late approach to analysis and shock in trials in North America or Australia with bystander CPR rates from 39% to over 60%. Any differences in outcome with the European trial may be attributed to the lack of uniformity of reporting time dependent intervals in out-of-hospital cardiac arrest across all geographical regions. This begs us to revisit the Utstein predictors of outcome and more comprehensively define these variables, adjust for them in our analyses and improve global comparisons.